2019 was a big year for modular construction. We teamed up with Skender to explore the offsite fabrication and modularization revolution, and to look back at some of the most exciting modular projects of the year.
Go Further with BuiltWorlds Insights
Get involved with BuiltWorlds Insights and you can commission research reports that directly address your company's needs, test out new technologies on your job site, hear from industry experts in the comfort of your office and highlight your thought leadership within the BuiltWorlds community.
Following the success of last years Adoption Leaders Top List, we put a call out to our community for nominations for the 2018 List. Individuals were able to nominate themselves or their peers who are not only champions of technology within their organizations but leaders who stepped into newly created roles that exist today as […]
We are excited to present to you the 2018 Connected Job Site 50 List, the easiest way to understand the companies changing the future of job sites through IoT-enabled, data collecting products and systems. Read on to see who made the list.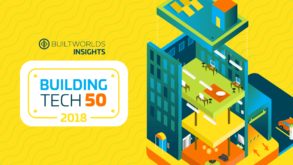 INTRODUCTION Welcome to the 2018 Building Tech 50 List, your guide to the companies paving the way for the connected buildings of the future. Read on to see who made the list. Download the full List with descriptions below. WINDOWS 1. View  Removing the need for blinds altogether, View's Dynamic Glass […]
In advance of the BuiltWorlds Cities Conference, we wanted to showcase 20 companies with some of the most exciting and innovative solutions to common infrastructure problems in the areas of: communication, water, energy, mobility and waste. Read on to explore how each of these key areas have already begun to be disrupted today while setting […]
Later this month, BuiltWorlds will host its first major conference outside the U.S. with our Summit in Paris. While the event covers many aspects of the built industry, one particular topic we'll spend a great deal of time talking about is technology investment. As the built industry continues to adopt […]
Become a Member to Access it All!
Through our Insights, Conferences, and online Members-Only Portal you can explore technologies and best practices that are currently shaping the built world. We're providing the tools so you and your business can be a part of moving the industry forward. Join BuiltWorlds to unlock unlimited resources, conferences, collaborations, and more!
During this discussion, JP Giometti, Digital Transformation of IoT, and Growth at HCSS Software explored the way in which HCSS is aggregating mixed-fleet telematics data beyond asset tracking to drive project productivity and efficiency.