December 2017 to December 2018 saw a flurry of M&A activity in the construction technology space. Not only did we see the birth of two new "unicorns," but a few "legacy" technology companies acquired a variety of startup solutions. We set out to figure out why these acquisitions happened and what they mean for the built world moving forward.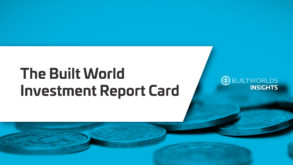 The Built World Investment Report Card is meant to summarize where we are as an industry and where we're going. We'll cover large-scale themes like the growth in investment entering the space, the solutions that solve pain points in the market, strategic investment and its importance, and vertical integration.
Bidding and estimating is a crucial component of preconstruction planning. New construction software platforms are making that process easier for owners, general contractors, and subcontractors with intuitive digital bid management tools.
Financial risk is apparent throughout the construction industry, often causing delays, cost overruns, and issues in the payment process. Major technology players offer more transparent, digital communication networks, all under the guise of reducing the risk that's associated with a given construction project.
With increasing urban density and our continuous need to build up, we have become tasked with greater feats of engineering in order to keep people safe and comfortable while surpassing the cloud line. The supertall revolution is impacting all members of the building process from design to construction to maintenance and operation.
The growing risk of extreme weather has placed significant stress on our infrastructure networks. How can the design, operations, and maintenance of critical infrastructure assets evolve to facilitate resilience?
Artificial intelligence and machine learning have already begun taking over the technology landscape in 2019. We're diving into how these groundbreaking computer-aided softwares are impacting the preconstruction process, diving into what you need to know in order to evaluate new companies and the use cases for your business.
From small residential contracting to large scale infrastructure construction, a project manager's ability to ensure profitable, timely, and injury-free project delivery depends on their ability to monitor all activities performed on site. This isn't always feasible or efficient; with crews of workers from different trades, material suppliers, field service technicians, […]
Go Further with BuiltWorlds Insights
Get involved with BuiltWorlds Insights and you can commission research reports that directly address your company's needs, test out new technologies on your job site, hear from industry experts in the comfort of your office and highlight your thought leadership within the BuiltWorlds community.
In anticipation of our upcoming "Rise of the Machines Conference" on April 6, we take a look at a few of the participating firms working to mechanize and simplify the building process through a variety of innovations.
It's no secret that the retail industry is changing. Over 4,000 legacy retail stores locations – including Payless ShoeSource – are expected to shut their doors this year alone, and Sears is on the endangered list. Simply put, customers' tastes and needs are changing.  In 2006, customers under 25 did […]
Become a Member to Access it All!
Through our Insights, Conferences, and online Members-Only Portal you can explore technologies and best practices that are currently shaping the built world. We're providing the tools so you and your business can be a part of moving the industry forward. Join BuiltWorlds to unlock unlimited resources, conferences, collaborations, and more!
During this discussion, JP Giometti, Digital Transformation of IoT, and Growth at HCSS Software explored the way in which HCSS is aggregating mixed-fleet telematics data beyond asset tracking to drive project productivity and efficiency.
Generative design, an approach based in machine learning, is the contemporary frontier of building design and pushing this frontier even further is the tech start-up PARAFIN.
Two of the hottest projects in Chicago were the renovation of the city's Old Post Office building and the construction of 110 Carpenter, McDonalds corporate headquarters. At BuiltWorlds' Projects Chicago Conference earlier this summer, Grant Uhlir, Principal of Gensler and Dan Brooks, Senior VP of Sales at KONE talked about the their work in these […]
We are always thinking of new ways to make job sites safer places. Today, one of the most obvious methods for safe construction is through the use of robotics, ranging from autonomous rebar-tying to bricklaying robots. In this panel from our Machines conference, Michael Lawrence (True Autonomy), Rafael Astacio (Construction Robotics), Yaron J. Schwarcz (Skyline Robotics), Samrudhdi […]
Buildings are not static objects, they morph and change. The technology revolution has come for the cubicle farm. Now, there are management apps to turn your phone into a remote control for your office, smart lighting apps to make sure the lights are actually turned off at night and so many others.
While many large-scale buildings have become increasingly intelligent and sophisticated, smaller scale domestic dwellings often lack the benefits of these advancements. Though a wide range of incentive programs and technology advancements continue to enter the market, many existing homes have yet to be modernized. At the same time, new homes […]
At BuiltWorlds' Retail Day, GrubHub's Adam DeWitt, Listen's Jeff Cantalupo, Boni's Paul Colgan, Interior Define's Rob Royer, and InContext Solutions Mark Hardy discussed ways the retail industry is changing as technology makes things like shopping and dining more and more convenient.
Constructing Supertall buildings super-fast, there's a new, safer way to do that: SpeedCore!