The Building Tech 50 list features 50 leading companies and solutions that are pushing the boundaries of how smart buildings are designed, built, operated, and maintained in 2019.
2018 was yet another big year in the built world. Whether through technology, venture financing, or sheer innovative thinking, the construction, architecture, engineering, and real estate industries continued to evolve. At BuiltWorlds, we witnessed that evolution firsthand as the world's leading thinkers, builders, technologists, and deal-makers pushed the industry onward and upward in the face of new challenges
It's that time of year as Cyber Monday approaches where you spend hours scouring the internet to find the perfect gift for your nephew, sister, parent, or co-worker. We've come across lists laying out the most popular gifts of this holiday season but what about a list with double meaning? Where can you find a […]
Following the success of last years Adoption Leaders Top List, we put a call out to our community for nominations for the 2018 List. Individuals were able to nominate themselves or their peers who are not only champions of technology within their organizations but leaders who stepped into newly created roles that exist today as […]
We are excited to present to you the 2018 Connected Job Site 50 List, the easiest way to understand the companies changing the future of job sites through IoT-enabled, data collecting products and systems. Read on to see who made the list.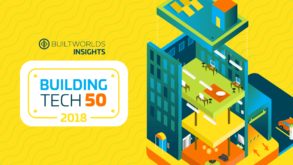 INTRODUCTION Welcome to the 2018 Building Tech 50 List, your guide to the companies paving the way for the connected buildings of the future. Read on to see who made the list. Download the full List with descriptions below. WINDOWS 1. View  Removing the need for blinds altogether, View's Dynamic Glass […]
In advance of the BuiltWorlds Cities Conference, we wanted to showcase 20 companies with some of the most exciting and innovative solutions to common infrastructure problems in the areas of: communication, water, energy, mobility and waste. Read on to explore how each of these key areas have already begun to be disrupted today while setting […]
Go Further with BuiltWorlds Insights
Get involved with BuiltWorlds Insights and you can commission research reports that directly address your company's needs, test out new technologies on your job site, hear from industry experts in the comfort of your office and highlight your thought leadership within the BuiltWorlds community.
Over 90 percent of all global infrastructure projects, according to The Economist, are either over budget or late, perhaps due to today's worldwide capital projects getting evermore complex and larger in scope. Labor costs comprise 20 to 50 percent of total project costs. Labor productivity has declined, hours have been […]
From design, to project management, to jobsite safety, Artificial Intelligence (AI) is transforming the way we construct our world. AI comes at the perfect time as demonstrated by Statista's projection of a 27% increase in construction spending in the coming years. Simultaneously, the construction labor force is shrinking. Therefore, construction […]
Next week, the BuiltWorlds team will be jetting off to the Big Apple for our Project New York City Conference. There, we'll be talking all about  the innovations happening in preconstruction. As we begin moving toward the event, we thought it would be helpful to lay out the most exciting trends and […]
Become a Member to Access it All!
Through our Insights, Conferences, and online Members-Only Portal you can explore technologies and best practices that are currently shaping the built world. We're providing the tools so you and your business can be a part of moving the industry forward. Join BuiltWorlds to unlock unlimited resources, conferences, collaborations, and more!
During this discussion, JP Giometti, Digital Transformation of IoT, and Growth at HCSS Software explored the way in which HCSS is aggregating mixed-fleet telematics data beyond asset tracking to drive project productivity and efficiency.
Generative design, an approach based in machine learning, is the contemporary frontier of building design and pushing this frontier even further is the tech start-up PARAFIN.
Two of the hottest projects in Chicago were the renovation of the city's Old Post Office building and the construction of 110 Carpenter, McDonalds corporate headquarters. At BuiltWorlds' Projects Chicago Conference earlier this summer, Grant Uhlir, Principal of Gensler and Dan Brooks, Senior VP of Sales at KONE talked about the their work in these […]
We are always thinking of new ways to make job sites safer places. Today, one of the most obvious methods for safe construction is through the use of robotics, ranging from autonomous rebar-tying to bricklaying robots. In this panel from our Machines conference, Michael Lawrence (True Autonomy), Rafael Astacio (Construction Robotics), Yaron J. Schwarcz (Skyline Robotics), Samrudhdi […]
Buildings are not static objects, they morph and change. The technology revolution has come for the cubicle farm. Now, there are management apps to turn your phone into a remote control for your office, smart lighting apps to make sure the lights are actually turned off at night and so many others.
While many large-scale buildings have become increasingly intelligent and sophisticated, smaller scale domestic dwellings often lack the benefits of these advancements. Though a wide range of incentive programs and technology advancements continue to enter the market, many existing homes have yet to be modernized. At the same time, new homes […]
At BuiltWorlds' Retail Day, GrubHub's Adam DeWitt, Listen's Jeff Cantalupo, Boni's Paul Colgan, Interior Define's Rob Royer, and InContext Solutions Mark Hardy discussed ways the retail industry is changing as technology makes things like shopping and dining more and more convenient.
Constructing Supertall buildings super-fast, there's a new, safer way to do that: SpeedCore!