Bidding and estimating is a crucial component of preconstruction planning. New construction software platforms are making that process easier for owners, general contractors, and subcontractors with intuitive digital bid management tools.
Financial risk is apparent throughout the construction industry, often causing delays, cost overruns, and issues in the payment process. Major technology players offer more transparent, digital communication networks, all under the guise of reducing the risk that's associated with a given construction project.
With increasing urban density and our continuous need to build up, we have become tasked with greater feats of engineering in order to keep people safe and comfortable while surpassing the cloud line. The supertall revolution is impacting all members of the building process from design to construction to maintenance and operation.
The growing risk of extreme weather has placed significant stress on our infrastructure networks. How can the design, operations, and maintenance of critical infrastructure assets evolve to facilitate resilience?
Artificial intelligence and machine learning have already begun taking over the technology landscape in 2019. We're diving into how these groundbreaking computer-aided softwares are impacting the preconstruction process, diving into what you need to know in order to evaluate new companies and the use cases for your business.
From small residential contracting to large scale infrastructure construction, a project manager's ability to ensure profitable, timely, and injury-free project delivery depends on their ability to monitor all activities performed on site. This isn't always feasible or efficient; with crews of workers from different trades, material suppliers, field service technicians, […]
Introduction As a hiring manager, you know that the construction industry is hungry for young talent. Nearly 20% of field managers and 15% of project managers will retire within the next five years and we need college graduates to quickly replace them. Construction Management (CM) programs are gearing up to […]
Introduction We all know the construction industry has a people problem. 89% of construction firms report a talent shortage. Our workforce is quickly aging. By 2020, individuals under the age of 40 will make up 50% of the U.S. workforce. However, the median age of U.S. construction workers is currently […]
Go Further with BuiltWorlds Insights
Get involved with BuiltWorlds Insights and you can commission research reports that directly address your company's needs, test out new technologies on your job site, hear from industry experts in the comfort of your office and highlight your thought leadership within the BuiltWorlds community.
The Building Tech 50 list features 50 leading companies and solutions that are pushing the boundaries of how smart buildings are designed, built, operated, and maintained in 2019.
2018 was yet another big year in the built world. Whether through technology, venture financing, or sheer innovative thinking, the construction, architecture, engineering, and real estate industries continued to evolve. At BuiltWorlds, we witnessed that evolution firsthand as the world's leading thinkers, builders, technologists, and deal-makers pushed the industry onward and upward in the face of new challenges
It's that time of year as Cyber Monday approaches where you spend hours scouring the internet to find the perfect gift for your nephew, sister, parent, or co-worker. We've come across lists laying out the most popular gifts of this holiday season but what about a list with double meaning? Where can you find a […]
Following the success of last years Adoption Leaders Top List, we put a call out to our community for nominations for the 2018 List. Individuals were able to nominate themselves or their peers who are not only champions of technology within their organizations but leaders who stepped into newly created roles that exist today as […]
We are excited to present to you the 2018 Connected Job Site 50 List, the easiest way to understand the companies changing the future of job sites through IoT-enabled, data collecting products and systems. Read on to see who made the list.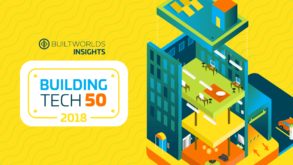 INTRODUCTION Welcome to the 2018 Building Tech 50 List, your guide to the companies paving the way for the connected buildings of the future. Read on to see who made the list. Download the full List with descriptions below. WINDOWS 1. View  Removing the need for blinds altogether, View's Dynamic Glass […]
In advance of the BuiltWorlds Cities Conference, we wanted to showcase 20 companies with some of the most exciting and innovative solutions to common infrastructure problems in the areas of: communication, water, energy, mobility and waste. Read on to explore how each of these key areas have already begun to be disrupted today while setting […]
We sat down with Jit Lee Chin, Suffolk's new Executive Vice President and Chief Data Officer, a new role we're seeing cropping up in the industry. One of our Maverick Award winner, Chin is doing a lot of exciting things to leverage data on the jobsite. BuiltWorlds's News Analyst, Jim […]
Become a Member to Access it All!
Through our Insights, Conferences, and online Members-Only Portal you can explore technologies and best practices that are currently shaping the built world. We're providing the tools so you and your business can be a part of moving the industry forward. Join BuiltWorlds to unlock unlimited resources, conferences, collaborations, and more!
CEO and Co-founder of IrisVR, Shane Scranton recently stopped by the BuiltWorlds studio for a demo and a chat about how their new products allow clients to take their 3D plans and blueprints and turn them into Virtual Reality experiences seen on devices like Oculus Rift, HTC Vive, Samsung GearVR, and Google Cardboard.