If you've driven through the Midwest, it's tough to miss Mokena, IL-based concrete supplier Ozinga's fleet of red-and-white striped mixing vehicles.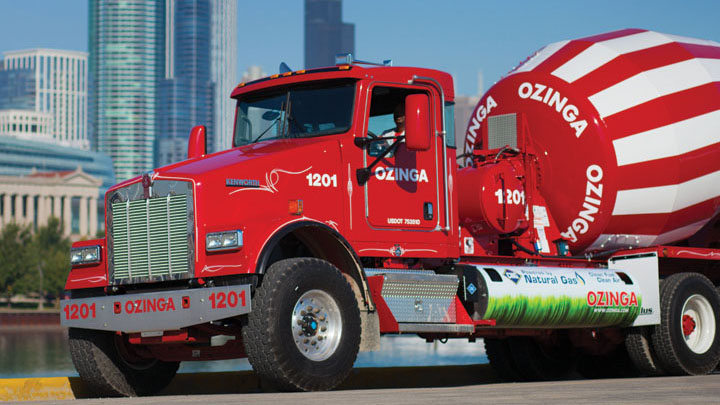 The 89-year-old enterprise, home to more than 1,500 employees, operates a fleet of more than 500 mixers and support vehicles and operates in more than 70 Midwest locations and is expanding, supplying product ranging from ready-mix concrete, including high-strength and fiber-reinforced product, to aggregates, blocks and landscaping materials.
Fourth-generation and family-owned, Ozinga is in a growth mode, in part the result of initiatives that prioritize innovation in the quality, productivity and sustainability of its operations.
Among them is the adoption of Digital Fleet, a real-time, automated tracking system that monitors concrete batching, location, job-site travel times and other conditions, allowing drivers to continually send and receive updates as designated activities unfold. (BuiltWorlds filmed a Session with Digital Fleet last year. Watch the video above.)
"Part of our success owes to the fact that we stay ahead of the curve in terms of learning about new technology," said Ryan Cialdella, Ozinga's vice president of research and development. "We have a saying: 'If you're not moving forward, you're moving backwards.' If you don't keep an open mind about technology, you're going to fall behind others."
Among other activities, Ozinga recently opened a production facility in Miami, FL, its first outside the Midwest, and acquired Davie, FL-based Banaszak Concrete Corp., owner of two concrete plants, to support burgeoning operations in the region. In June, the enterprise reopened a production facility in Des Plaines, IL.
Here are some of the resources Ozinga has tapped into:
CarbonCure
Ozinga has joined forces with Canadian enterprise CarbonCure to capture CO2 that otherwise might serve as a pollutant and inject it into concrete mix, where it is converted to a solid.
"In addition to reducing our carbon footprint, it adds compressive strength to our product while allowing us to forego use of Portland cement, one of the most costly components in our mixes," Cialdella said. "And we achieve the same performance."
To create the mix, all ingredients, including sand, stone, water and cement are blended in a large-scale mixer, at which point the CO2 is added. The resulting chemical reaction is instantaneous, with the CO2 bonding with cement particles to form calcium carbonate.
The industry, Ozinga included, has only recently begun to recognize the benefits of the approach. "CarbonCure is rolling out the technology more extensively and beginning to gain more traction with it," Cialdella said. "We adopted it at one location — Chicago's Chinatown — in 2016 and have been in the beta phase with it since then. Now that we're more comfortable with the technology, we plan to roll it out at three additional locations in the near future."
Verifi
Ozinga also has collaborated Cambridge-MA,-based Verifi to adopt technology that enlists hydraulic sensors to measure, manage, record and maintain the quality of concrete slump in Ozinga vehicle, a practice begun in 2013.
Among other benefits, "Slump can be measured on site — in the vehicle — via digital display, as well with a mobile app and on-line portal," Cialdella noted. "It's also a very flexible system. We can program parameters that conform to job requirements."
Should slump deviate from those parameters, the system responds by initiating the addition of water or superplasticizer to the mix, ensuring product meets specifications upon arriving on site.
Going Natural With Gas
Ozinga continues investing in compressed natural gas (CNG), both for its fleet and other users of CNG vehicles. Having constructed its first CNG station in 2012, it recently announced construction of a fifth facility for the public works division in Hobart, IN.
"We began adopting CNG when the price of diesel fuel began to increase," Cialdella recalled. "There was also the issue that Ozinga is a family-owned American enterprise. As such, obtaining our fuel from a domestic source was of interest to us. CNG is also a cleaner fuel, emitting less CO2 than other sources."
Additionally, CNG vehicles tend to be less noisy and require less maintenance than diesel-fueled vehicles.
At present, about 125 of Ozinga mixing trucks run on CNG, one of the largest such fleets in the world.
What's on the horizon for Ozinga?
Ozinga currently is evaluating technology capable of performing real-time measurements of air-entrainment in our mixes. Among other attributes, air bubbles can enhance concrete's weatherability and resistance to scaling, eliminating damage to the hardened product during freeze-thaw cycles.
"However, too much air can decrease product durability," Cialdella said. Beyond entrainment, "we're always looking for materials and admixtures that enhance the value of our company and product we provide our customers."
---
If you're interested in how new technologies can help companies in the built industry, check out our Hackathon, hosted in Chicago this fall.