BuiltWorlds is entering its third year of producing Top Lists highlighting the leading and emerging technology companies operating within the built environment. Touching on categories like building technology, machinery & automation, project management software, and field technology, Top Lists provide you an opportunity to identify the solutions in the market that have an impact directly on your business and your peers.
The Building Tech 50 list features 50 leading companies and solutions that are pushing the boundaries of how smart buildings are designed, built, operated, and maintained in 2020.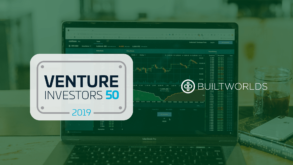 The Venture Investors 50 list features the leading companies, both traditional venture capitalists and corporate venture capitalists, that have invested significantly into built industry technology in 2019.
The Infrastructure Tech 50 list features 50 innovative solutions impacting how we design, build, and maintain our infrastructure assets – from planning & design to safety & security to transportation and more.
The Project Software 50 list features 50 innovative solutions advancing how we deliver construction projects of every size and scope – from ERP to collaboration & document management to field management and more.
The Machines 50 list features 50 innovative solutions advancing equipment, machinery, and tools at the frontier of the built environment – from 3D printing to field robotics to equipment tracking systems and more.