Meirav Oren (Fainaru), CEO and Co-Founder of Isreali AI-Startup, Versatile on the occasion of her presentation at our Global Summit in Paris in 2019 (photo courtesy of Meirav Oren).
We first met Meirav Oren, CEO of Construction tech AI Startup, Versatile, at our Global Summit in Paris in June of 2019. She was the only presenter over the three days not from Europe or the United States, and that seemed just fine with her.  An Israeli with a Business School and a Law School degree, she spent nine years operating businesses across Europe and Asia for global technology player, Intel, and, though she started her company in Tel Aviv, her Pre-Seed investor was Bay Area hard tech venture capital firm, Root Ventures.  After originally beginning operations in Tel Aviv, Versatile established as an American company, has taken full ownership of it's Israeli subsidiary, and is now expanding within the US market.
2019 "Seed Round" Brings Australian, European, and American Construction Tech Investors
Shortly after that meeting, in August of 2019, the company announced it had inked a $5.5 million Seed round led by German-based Robert Bosch Venture Capital, GmbH, and with Conductive Ventures, a Bay Area Venture Firm that celebrates being founded by immigrants to America and investing in immigrant-led startups, as well as Leigh Jasper and Rob Phillpot, Australian co-founders of Construction's first unicorn, ACONEX.   With this one Seed Round, Versatile had become an organization with ownership from four continents.
Latest Rounds Adds to International Investors
As turns out, that was just the beginning. In June of 2020, shortly after we announced that Meirav Oren had been added to our annual Mavericks 50 List, there came the news that Versatile had been dubbed a Technology Pioneer  by the World Economic Forum, which rightfully categorized the firm as a US company.  So, it is only fitting that, this month, Versatile announced a $20 million round led by Insight Partners and joined by London-based Entree Capital, through their new $150 million growth fund established to invest in Israeli innovation.
Oracle and Others Become US Pilot Project Partners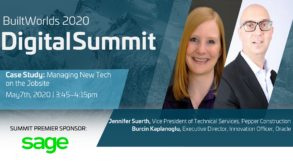 Against this international backdrop, Versatile has made significant inroads into the US Construction industry. In May, at our US Summit, Chicago-based Pepper Construction's, Jennifer Suerth, Vice President of Technical Services spoke with Oracle's Executive Director, Burcin Kaplanoglu about their efforts to turn the project of building ORACLE's new innovation laboratory into a test bed for emerging construction technologies. From among the technologies they tested on the project, Suerth singled out Versatile as having been particularly noteworthy (click the Summit image to hear her exact remarks).
From Enhanced Visibility to Predictive Analytics
We then again heard about Versatile in a presentation with Suffolk's Data Science manager, Nick Carbone. This time, the focus was less on the ability to see things on the project site and more on the predictive analytics enabled by Versatile (click the image from the Projects Conference to see the full presentation.). As we saw at our Global Summit in October, more and more technology companies are growing more quickly across borders, as investors get more aggressive funding start ups far beyond their home bases and as major industry players look to piIot the most interesting technology, regardless of where it is from. Even with the industry's recent embrace of a more global ecosystem, Meirav Oren and her Versatile technology group may just be the most facile emerging player in the game today.
ABOUT BUILTWORLDS:
BuiltWorlds is the buildings and infrastructure industry's leading platform for open innovation, keeping companies in the worlds of engineering, construction and related fields informed and connected, and helping them find avenues to collaborate for their own strategic success and for the betterment of the industry, as whole. For more information about BuiltWorlds, visit the BuiltWorlds Network.