Jamie Redmond, Director of Marketing & Strategy at Redmond Construction Corp., is a BuiltWorlds contributor.
We invite experts and thought leaders to share their knowledge on topics related to innovation in the built environment. Information on each contributor can be found at the bottom of each article. Learn more about our contributor program here.
---
When I'm not at my day job, I'm teaching Practices for Sustainable Cities at the University of Illinois at Chicago (UIC). It's a new undergraduate course for urban studies students who are interested in sustainability, planning, and policy. We talk about the different ways climate change and population growth impact cities, and how the public and private sectors are mitigating and planning for a more sustainable future. We cover the basics, like stormwater infrastructure, renewable energy, energy efficiency, multi-modal transit, and green space. Then we dive into the social and economic factors that are often barriers to integrating sustainable practices. Throughout the semester, my students offer insightful, thoughtful observations of how cities work for the people who live in them. Even more intriguing, though, is the vision they have for the future of Chicago.
The spring 2017 cohort recently wrapped up final project presentations after a semester of researching Chicago neighborhoods and writing sustainability proposals for their chosen neighborhoods. The typical "green" tropes were present: bike lanes, planter beds, permeable paving, and stormwater retention. But the deeper themes that came through, the common thread amongst each of their visions, was community and equity. When young people think about sustainability it means more than green space and renewables. It means sustainable economies that allow neighborhoods to build prosperity in place, developments that operate on efficient systems without excess waste, and healthy, engaged communities with equal access to resources and opportunity.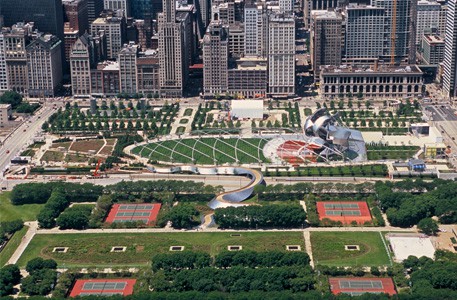 Their vision for the future is connected and collaborative, while allowing distinct places to celebrate their identities and cultural resources. They envision an urbanizing world that brings people together and tackles growth with innovative solutions aimed at inclusion rather than polarization, whether it's economic or cultural. These are massive, complex issues for any planner or city government to tackle. But this is also the most diverse, well-educated, technologically savvy generation in our history. They see the world differently than their predecessors because the world is different, and they came of age during that transition.
Young people want sustainable, equitable, inclusive cities. They place value on community and social resources, and they want smart solutions to the complicated, cumbersome processes that stifle growth and keep neighborhoods stagnant. The idea that something has always been done a certain way, and therefore that's how it will be done, is just not going to fly with this generation. There is a constant desire to feel connected and engaged with something meaningful that drives how young people live, where they move, and how they spend their money and time. That preference for community and their willingness to buck the status-quo will shape the future of this city.
Planners, developers, and corporations are always looking to scout the perfect location, attract top talent, and anchor vibrant communities. Chicago has built thriving tech and startup ecosystems and developed world class lakefront green space, but we're leaving wide swaths of the city behind and we're not growing. Our population is actually declining faster than any other major U.S. city.
If we want young people and families to stay here and to move here, we need to invest in truly sustainable practices and policies that strengthen all of our communities. We need to think outside the standard retail-infill and corporate-hub developments and genuinely explore what constitutes a strong, vibrant community.
Here's the key takeaway: Sustainability cannot be limited to green roofs and bike lanes. It has to include economic opportunity, prosperity in place, access to community resources, and a healthy environment for all city residents. It would serve us well to tap into the ideas and ideals held by the young people who will be the next generation of planners and CEOs, if only to ensure they have the tools to thrive when they come of age to lead this city.
---
About the Author
Jamie Redmond is the Director of Marketing & Strategy at Redmond Construction Corp. Jamie comes from a policy and digital strategy background, and she joined RCC in 2017 to lead the marketing team and develop strategic partnerships. She is focused on piloting RCC's new mentorship, scholarship, and community engagement initiatives, in addition to teaching Urban Sustainability as an adjunct at UIC.