If you've been following the built industry, you'll know that AEC tech startups are hotter than ever. With even traditional investors now paying attention, what's in store for the industry? If Pillar Technologies' recent $2.75 million seed round is any indication, the answer is, well, a lot.
Just a couple of years ago, venture funding for tech in the AEC space either didn't exist or was very underground, Pillar Technologies CEO Alex Schwarzkopf tells us.
"Brick and Mortar Ventures on the West Coast and Borealis Ventures on the East Coast were really prominent when we first looked around," Schwarzkopf said. But in the past year and half, there's been a shift.
"This explosion of companies popping up in AEC has really grabbed the attention of traditional investment funds, too," he said. "People are saying, 'We've heard what you're doing and want to learn more. It's a little late because [Pillar] just raised, but that never used to happen.'"
Originally based in Boston, Pillar is now based in New York City's Grand Central Tech accelerator. Its platform combines sensors, software, and analytics to provide contractors with real-time jobsite risk management.
BuiltWorlds visited Pillar and Grand Central Tech back in August: Click here to read more.
In February, Pillar's sensors sent a push notification of a sudden temperature loss at a Boston-area high school project, which gave workers an hour head start on preventing the water main from freezing.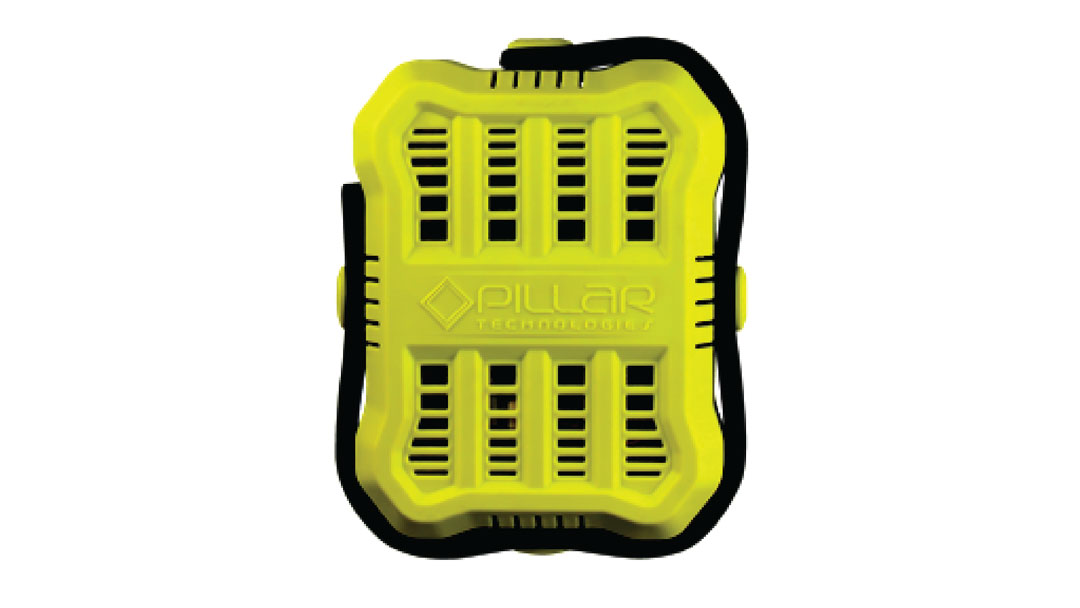 This set-and-forget model Pillar offers takes tasks that are traditionally completed via worker man-hours and, instead, automates them. The idea, Schwarzkopf said, is to allow project supervisors to focus on more meaningful work that requires actual human interaction. "Tech is driving profitability and competitive advantage in this way that's completely changing the game," he said.
But who's driving this change? Turns out, it's the contractors themselves.
In 2015, the Pillar team did a deep dive into the challenges facing the industry. The feedback from Boston-area general contractors was that a serious lack of real-time data, not just about the environment but about everything, just makes the job harder. "We heard about worker tracking, "I don't know where my guys are," management: "is the project changing, is it on schedule," Schwarzkopf said. "We've seen drones deployed to track progress." As he watched the industry change dramatically over just a few years, an explosion in technology allowed companies to optimize and reduce risk in ways they never could before. It was exciting.
"Construction projects are one-offs. You're only building one of these things, which makes them incredibly risk-prone, and your profit margin is two or three percent," said the CEO. If something goes wrong, a project can lose its profitability. Pillar's full-spectrum monitoring provides real-time understanding of how the environment is affecting the safety of workers or the quality of the project. Before the environment causes property damage or exposes workers to unsafe conditions, managers can do something about it — particularly relevant considering the Occupational Safety and Health Administration's upcoming respirable silica regulations.
This is the kind of offering piquing the interest of VC firms like Pillar's funders, XL Innovate, Hyperplane VC, and Techstars Ventures. XL Innovate partner Martha Notaras is also joining Pillar's board, representing unique insurance expertise. "When you have data involved that can help contractors get lower insurance premiums, and you can bring that value to your clients, it's a really interesting place to be," Schwarzkopf said. "Plus, Martha has an awesome personality."
Pillar plans to make key hires to fill in the gaps created as the company's grown and put some of the new funding into sales and marketing and basic product support. "For now we're focused on scaling and offering a turnkey solution" Schwarzkopf said. "I will say i'm really interested in the idea of a fully-encompassing risk management solution, where the product is capable of understanding multiple different data sets and making informed decisions about actions that could be taken to reduce risk and improve efficiency."
As real-time data, the construction industry, and the insurance industry rapidly become perhaps not-so-strange bedfellows, Schwarzkopf sees Pillar's position in a much larger and much more exciting ecosystem. In the short term, Schwarzkopf is laser-focused on the opportunity in the AEC space. The bidding process for construction companies, especially at the higher level, is incredibly competitive, and he sees those owners looking to other companies for technology solutions. "Their clients want to see that they're a forward-thinking construction company."