News of Autodesk's $240 million acquisition of Oslo, Norway-based, Spacemaker.AI offers the latest evidence of the maturation of Europe's Buildings and Infrastructure technology sector and the increasing trend toward international deals, as leading edge technology companies are cropping up far beyond early centers in places like San Francisco, Boston, and London and as the industry's growing tech players push to expand their customer bases, globally. The deal also highlights the growing importance of AI and Machine learning in this phase of technology dealmaking. An emerging leader in the field of AI and generative design tools for early-stage development and design planning, Spacemaker Founder & CEO, Havard Haukeland spoke at our Global Summit in Paris in 2019, and we identified Spacemaker among a list of promising European Startups in our 2019 European Report.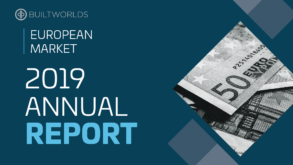 Around the World, Deals Sizes Grow & More Companies Invest Internationally.
Autodesk's acquisition of Spacemaker is certainly not the first international deal in the AEC tech sector. Oracle's $1.2 Billion acquisition of Australia-based Aconex may still be the largest, and Bentley's acquisition of London-base synchro was another illustration of the trend. In the reverse, Nemetchek's acquisitions of Bluebeam is an example of a European firm buying an American firm. What appears to be different now is the pace of larger deals. Over four days, this past October, we covered international investment in the sector, looking at examples of earlier and later stage companies garnering growing international investment, not only in Europe, but also in places like South America, Australia, Israel, and Saudi Arabia/UAE.
Moving from Digitization of Workflows to Automation and Intelligence.
Early in the sector's technology transformation, the focus was on moving companies from Excel spreadsheets and paper forms and blueprints into cloud based, mobile-friendly systems with structured databases and workflows that would reduce labor associated with double-entry, lack of access to data, and the simple pains of printing, scanning, faxing, mailing, filing and otherwise managing paper.  In the last several years, the attention has shifted from moving processes online to leveraging Machine Learning and Artificial intelligence to gain faster and better insights from data to make predictions and to automate processes.  Spacemaker is one example of this growing breed of solutions, and we can expect to see a lot more from that group in the years to come, especially as older and more established firms look to incorporate those features into their own offerings.
Research and Lists Featuring Emerging Tech in AI and Machine Learning:
Watch Recent Discussion Sessions and Demos Around AI/Machine Learning:
The exponential growth in data acquisition and application of BIM, paired with ever more aggressive delivery schedules, calls for introduction of new solutions that transcend the current capabilities and venture into Artificial Intelligence (AI) territory with the goal of achieving better control and higher level of predictability through the real-time analysis of production, resources and jobsite conditions.
We were pleased to spend a few minutes with Meirav Oren, CEO and Co-Founder, Versatile at our US Summit this past September, just days before news broke that Versatile had raised $80 million from Insight Partners and Tiger Global, as well as Robert Bosch Venture Capital GmbH, Entree Capital, Root Ventures, Conductive Ventures, and Australian […]
According to numerous sources, construction productivity has fallen by half since the 1960s. One of the largest contributing factors is the growing shortage of skilled workers. Construction robotics can improve building productivity by accomplishing tasks faster, safer, and more economically. Robotics & advanced equipment are technologies to bring construction into the 21st century. Many construction jobsite […]
Another person we had the opportunity to meet at the BuiltWorlds Summit this year, is Raymond Levitt, Operating Partner, Blackhorn ventures. As discussed in a profile earlier this year, Blackhorn Ventures has become one of the most active investors in the Built World ecosystem with investments including  Agorus, ALICE, briq, ClimateAI, CoFi, Drawboard, Dwellsy, Foresight, […]
Clue is an all-in-one construction management platform that maximizes productivity and minimizes downtime for the entire fleet. With Clue, customers eliminate 20% of annual operational waste through better productivity management, maintenance, asset allocation, and total cost of ownership planning. About Demo Drops Weekly Demo Drops are sponsored by BuiltWorlds Venture Forum (BVF).  BVF brings together action-oriented […]
One of the Thought Leaders we had a chance to meet with at the BuiltWorlds US Summit last month was Peter Bysshe, Brand Development, Recon Dynamics. As we increasingly look to gather critical data "at the face of work," how we connect our different tools, equipment, and systems is becoming increasingly critical. In this session, […]
Can we reduce field costs by providing them with new tools and technology to enhance how they perform their day-to-day work to recognize a visible return on our collective investments and realize results and improvements within our industry, we need to look at new tools and technology that help improve day to day performance
The gap in construction communication between the team on the jobsite and those at the office has never been greater. Plans often go through a game of telephone to notify changes, confirm construction quality, and perform RFIs. Times are changing. Digitization allows individual tasks to be unified into a larger unified vision. Smart Jobsites use […]
Document Crunch is an artificial technology platform that identifies and explains critical issues in your construction contracts, insurance policies, plans/drawings, specifications and more. About Demo Drops Weekly Demo Drops are sponsored by BuiltWorlds Venture Forum (BVF).  BVF brings together action-oriented GCs, engineering firms, and other strategic players in the construction sector that share in the belief […]
How do we build technology-driven cultures that deliver results as they transform how our companies operate? These industry leaders will share their experiences: the challenges they face, what has worked, the most important lessons they have learned along the way, and what they are doing differently today because of what they have learned.
ABOUT BUILTWORLDS:
BuiltWorlds is the buildings and infrastructure industry's leading platform for open innovation, keeping companies in the worlds of engineering, construction and related fields informed and connected, and helping them find avenues to collaborate for their own strategic success and for the betterment of the industry, as whole. For more information about BuiltWorlds, visit the BuiltWorlds Network.