News of Autodesk's $240 million acquisition of Oslo, Norway-based, Spacemaker.AI offers the latest evidence of the maturation of Europe's Buildings and Infrastructure technology sector and the increasing trend toward international deals, as leading edge technology companies are cropping up far beyond early centers in places like San Francisco, Boston, and London and as the industry's growing tech players push to expand their customer bases, globally. The deal also highlights the growing importance of AI and Machine learning in this phase of technology dealmaking. An emerging leader in the field of AI and generative design tools for early-stage development and design planning, Spacemaker Founder & CEO, Havard Haukeland spoke at our Global Summit in Paris in 2019, and we identified Spacemaker among a list of promising European Startups in our 2019 European Report.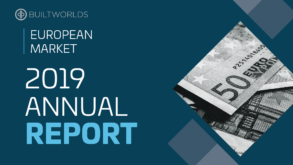 Around the World, Deals Sizes Grow & More Companies Invest Internationally.
Autodesk's acquisition of Spacemaker is certainly not the first international deal in the AEC tech sector. Oracle's $1.2 Billion acquisition of Australia-based Aconex may still be the largest, and Bentley's acquisition of London-base synchro was another illustration of the trend. In the reverse, Nemetchek's acquisitions of Bluebeam is an example of a European firm buying an American firm. What appears to be different now is the pace of larger deals. Over four days, this past October, we covered international investment in the sector, looking at examples of earlier and later stage companies garnering growing international investment, not only in Europe, but also in places like South America, Australia, Israel, and Saudi Arabia/UAE.
Moving from Digitization of Workflows to Automation and Intelligence.
Early in the sector's technology transformation, the focus was on moving companies from Excel spreadsheets and paper forms and blueprints into cloud based, mobile-friendly systems with structured databases and workflows that would reduce labor associated with double-entry, lack of access to data, and the simple pains of printing, scanning, faxing, mailing, filing and otherwise managing paper.  In the last several years, the attention has shifted from moving processes online to leveraging Machine Learning and Artificial intelligence to gain faster and better insights from data to make predictions and to automate processes.  Spacemaker is one example of this growing breed of solutions, and we can expect to see a lot more from that group in the years to come, especially as older and more established firms look to incorporate those features into their own offerings.
Research and Lists Featuring Emerging Tech in AI and Machine Learning:
Watch Recent Discussion Sessions and Demos Around AI/Machine Learning:
Corporate and Institutional Venture Asia Venture capitalists in the industry continue to expand their view globally as innovative solutions continue to be developed all over the world. During this panel, investors in the built world provided insights into their specific view of the APAC region, and how that may differ from other parts of the […]
Zachi Flatto, CEO & Co-Founder of Skyline Cockpit delivers his Demo Presentation at the 2023 Paris Demo Night Competition hosted at the Le Meurice hotel this past June. Skyline Cockpit is a company that allows tower crane operators to remotely control the crane operations at job sites from a safe and secure location free from […]
Applying Artificial Intelligence (AI) to Project Planning & Productivity Artificial intelligence (AI) has become a central topic of nearly every conversation surrounding innovation. AI is a topic that can't be ignored — which is why we are addressed the elephant in the room out of the gates in Miami. This panel explored some of the […]
Overview On our November 29th Analyst Call we were joined by 3 representatives from unique startups looking to transition cost-effectives, sustainability, and high performance into building materials. Each was given an opportunity to present their specific solution to issues that have long plagued many industries as they try to figure out what the best materials […]
Lightning Round III: What is the Future of Modular in Construction? With a growing desire to remove variables, contractors, manufacturers, and the like are looking for controlled, offsite environments to safely standardize as many processes as possible. With modular construction becoming commonplace, the industry is trying to determine best practices for continued implementation. This panel […]
Peter Crawley, CEO and President of PCC Integrate Inc. sat down with the team at our 2023 Buildings Conference this past May to chat about what's happening around their business and what tech solutions Crawley is most looking forward to down the line. We asked Crawley if he could debunk any myths that he's seen […]
Company Overview Aitenders's platform provides companies responding to public and private tenders a unique way to unlock intelligence from their tender and project contractual documentation to help builders make better collaborative decisions, with full traceability while capitalizing on the team's expertise. BuiltWorlds tracks startups across the ecosystem along their journey to their exits and keeps […]
Sustainability & Profitability Collide in Construction Sustainability has become a huge concern in the built environment as it accounts for ~40% of total global emissions. This panel will discuss the industry hurdles for implementing environmentally friendly innovations and how long-term (and even short-term) profitability expansions can be realized by leveraging sustainable technologies. Kevin Cardona, Director […]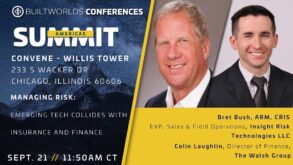 Managing Risk: Emerging Tech Collides with Finance The built world is finally beginning to un-silo and leverage the 95% of AEC data that had historically gone to waste, while IoT, reality capturing devices, and other digitally-enabled devices generate a new prolific wave of usable information. This cascading of data has created an increasingly attractive environment […]
The investment community in the built environment is becoming increasingly diverse as innovation in this space begins to maturate. While pure-play built-world VCs like Brick & Mortar have finally begun to reap the benefits of their labor, corporate venture capital and private equity firms are entering the space with tenacity. Panelists: Alice Leung, Vice President, […]
ABOUT BUILTWORLDS:
BuiltWorlds is the buildings and infrastructure industry's leading platform for open innovation, keeping companies in the worlds of engineering, construction and related fields informed and connected, and helping them find avenues to collaborate for their own strategic success and for the betterment of the industry, as whole. For more information about BuiltWorlds, visit the BuiltWorlds Network.