Building products and materials companies are facing an unprecedented period of disruption, and that change, fueled by digital trends, is key to the building and infrastructure sectors' overall transformation. Buying software is influencing the selection of materials. IoT technologies provide more data about the actual performance of materials.  Robotics and modular fabrication is driving changes in the types of materials used, and new planning tools make it easier to factor energy use, carbon footprint, and other life cycle considerations into the specification processes. Changes will take time to be felt fully in as vast and mature a sector as building products and materials, but we already see a bumper crop of new companies and strategic partnerships with mature players.
Why Building Materials are Key to the Industry's Transformation?
Reason One: Simple Economics
Building materials comprise the majority of the cost of most building projects around the world. For years, the conventional wisdom was that those materials were essentially fixed commodities, and so making better use of labor was the only way to affect the cost of projects. However, as the industry get further along in its understanding of how to address labor productivity, materials loom as the most obvious place to find further efficiency. Already, the industry is developing new tools in design, engineering, and procurement that promise to help develop, design, and buy materials in a way that lowers their overall cost in a building. Ecomedes, which recently secured $1.5 million in seed funding partially from leading building materials company, Saint Gobain, is just one example of the tools proliferating in this arena.
In our October 16th Analyst Call, as part of our expanding look at the dynamic world of building products and materials, we will meet with several leading players in the sector to learn more about the trends disrupting the world of building materials. 
Reason Two: The Push for Carbon Reduction, Energy Efficiency and Sustainability is Accelerating with help from IoT.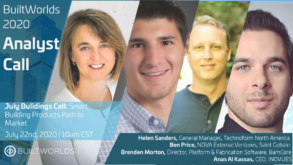 Concrete is the most basic and pervasive material in the construction of buildings and infrastructure. However, particularly in discussions with European players, concrete has become a major focus because of its associated carbon emissions and energy consumption. Cloud and sensor technology makes it much easier for companies to measure and analyze pollution, and this is fueling an effort to reduce concrete in buildings or to find other ways to reduce the carbon footprint of concrete (see also, McDonald's Chicago Flagship Case Study for a US example) and other traditional building materials. Not far behind concrete is probably the second most prevalent building material, steel.  The industry is actively launching mass timber and other initiatives to reduce the use of concrete and steel in buildings. At the same time, steel and concrete companies are engaging in an unprecedented way with the innovation ecosystem.
One of the world's largest builders, Bouygues recently formed an entire division dedicated to mass timber initiatives (click here or the image below to access Bouygue's presentation), and, as we saw in our Global Summit, other major builders around the world such as Portugal's Casais Group are undertaking similar initiatives, fueling the expansion of mass timber production, changes in building codes and adding legitimacy to the effort.
Reason Three: Modularization, Robotics, 3D Printing Mean New Materials
As we learned during our talk with 3D printing company, XtreeE co-founder Jean-Daniel Kuhn (click here or on the image to watch the talk), the development of more commercially viable robotics companies is being accompanied with significant changes in the types of materials being used, the structural design, and the amounts of materials in use. Here, again, we see building materials companies shows an understanding of the importance of this trend. LaFargeHolcim is an investor in and collaborator with ExtreeE, focusing on its materials.
Another extreme illustration of the way robotics companies are shifting the landscape for building materials companies is evident with the case of Australian bricklaying robot, FBR. As FBR, Chief Innovation Officer, Steve Pierz showed us during this spring's Machines Analyst call, one of the key's to FBR's success is that it uses no mortar and instead uses an adhesive to bind the bricks. Once again, it becomes clear that as the industry evolves, changes in materials, themselves, and advances in productivity and quality are two sides of the same coin.
Reason Four: Materials are Key to Labor Productivity
Even without robots and modularization, workforce demographics are driving changes in materials. Both USG (now a division of Knauf) and DuPont recently offered us examples of products recently introduced that are lighters and simpler to install than prior versions (click here or above to watch their presentation at our High Performance Buildings Conference). Lighters and easier to install products mean fewer injuries to an aging and less highly skilled workforce, and they also mean faster assembly in the field. Possibly the most extreme illustration of this focus on innovation in building materials for increased productivity is in a new initiative from the Association of Iron and Steel Contractors called their "need for speed" initiative, an all hands effort that aims to cut steel building timelines in half. We'll hear more about the initiative in our upcoming Analyst Call with Joe Dardis, Senior Structural Steel Specialist at AISC.
Reason Five: Logistics, Logistics, Logistics
Every builder knows that construction projects are frustrating slowed by waiting on late material deliveries, waiting on material deliveries as a result of last minute schedule issues, waiting on deliveries of materials when the first delivery contained incorrect, broken, or missing materials, waiting for materials to set, dry, or cure, working to fasten and join materials, testing materials, and on and on. When you consider how much waste on a construction project is attributable to materials logistics, it is not a coincidence that the winner of our most recent Global Summit Demo Day was London-based smart materials company, Converge.  While contractors rated materials logistics companies high for potential impact but low for adoption in last year's benchmarking survey, we are seeing a host of solutions in materials management now hit the market. One of those solutions, we looked at recently is Western Canada's Intelliwave.
While creating apps to digitize collaboration workflows may have been the first phase of emerging technology to mature in the industry, changes in areas such as materials are just now beginning to take hold and will potentially be even more disruptive to the industry. We will continue to deepen and expand our exploration of the strategic implications, trends, and emerging companies in this arena in the months to come.
BuiltWorlds is the buildings and infrastructure industry's leading platform for open innovation, keeping companies in the worlds of engineering, construction and related fields informed and connected, and helping them find avenues to collaborate for their own strategic success and for the betterment of the industry, as whole. For more information about BuiltWorlds, visit the BuiltWorlds Network.