BuiltWorlds is entering its third year of producing Top Lists highlighting the leading and emerging technology companies operating within the built environment. Touching on categories like building technology, machinery & automation, project management software, and field technology, Top Lists provide you an opportunity to identify the solutions in the market that have an impact directly on your business and your peers.
The Building Tech 50 list features 50 leading companies and solutions that are pushing the boundaries of how smart buildings are designed, built, operated, and maintained in 2019.
2018 was yet another big year in the built world. Whether through technology, venture financing, or sheer innovative thinking, the construction, architecture, engineering, and real estate industries continued to evolve. At BuiltWorlds, we witnessed that evolution firsthand as the world's leading thinkers, builders, technologists, and deal-makers pushed the industry onward and upward in the face of new challenges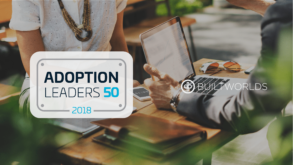 Following the success of last years Adoption Leaders Top List, we put a call out to our community for nominations for the 2018 List. Individuals were able to nominate themselves or their peers who are not only champions of technology within their organizations but leaders who stepped into newly created roles that exist today as […]
We are excited to present to you the 2018 Connected Job Site 50 List, the easiest way to understand the companies changing the future of job sites through IoT-enabled, data collecting products and systems. Read on to see who made the list.