Last Thursday, BuiltWorlds visited the Big Apple for our Projects Conference. The conference featured case studies of major projects from around the world, from LaGuardia Airport to Chinese skyscrapers. Attendees participated in interactive breakout sessions that helped them get to the 'core' of the issues that are holding their companies back from adopting necessary new technology.
While Projects addressed countless issues facing contractors, architects, engineers, there were five major takeaways that the BuiltWorlds team drew from the conference…
1. The American built industry is resistant to adopting new technology
The built industry in the US is incredibly slow to adopt new technology. As Roger Krulak, the Founder and CEO of FullStack Modular stated, "my grandfather was a carpenter in Russia… if you put him on a construction site today, despite all your technology, he'd know exactly what to do, and that makes me depressed."
By contrast, David Malott, the CEO of Spacefactory related, "China is much more ready to adopt new ideas… Every building in China became LEED within a year." Developers in China, Malott explained, are now beginning to sense that their government will put forth a directive to implement smart building in every project in some way.
In order to maintain a competitive edge, US contractors, architects, and engineers need to embrace new technology. Chad Hollingsworth, the CEO & Co-Founder of Triax Technologies, is optimistic about tech adoption. He sees "a willingness now to try technology, but it's still a case by case, company by company basis."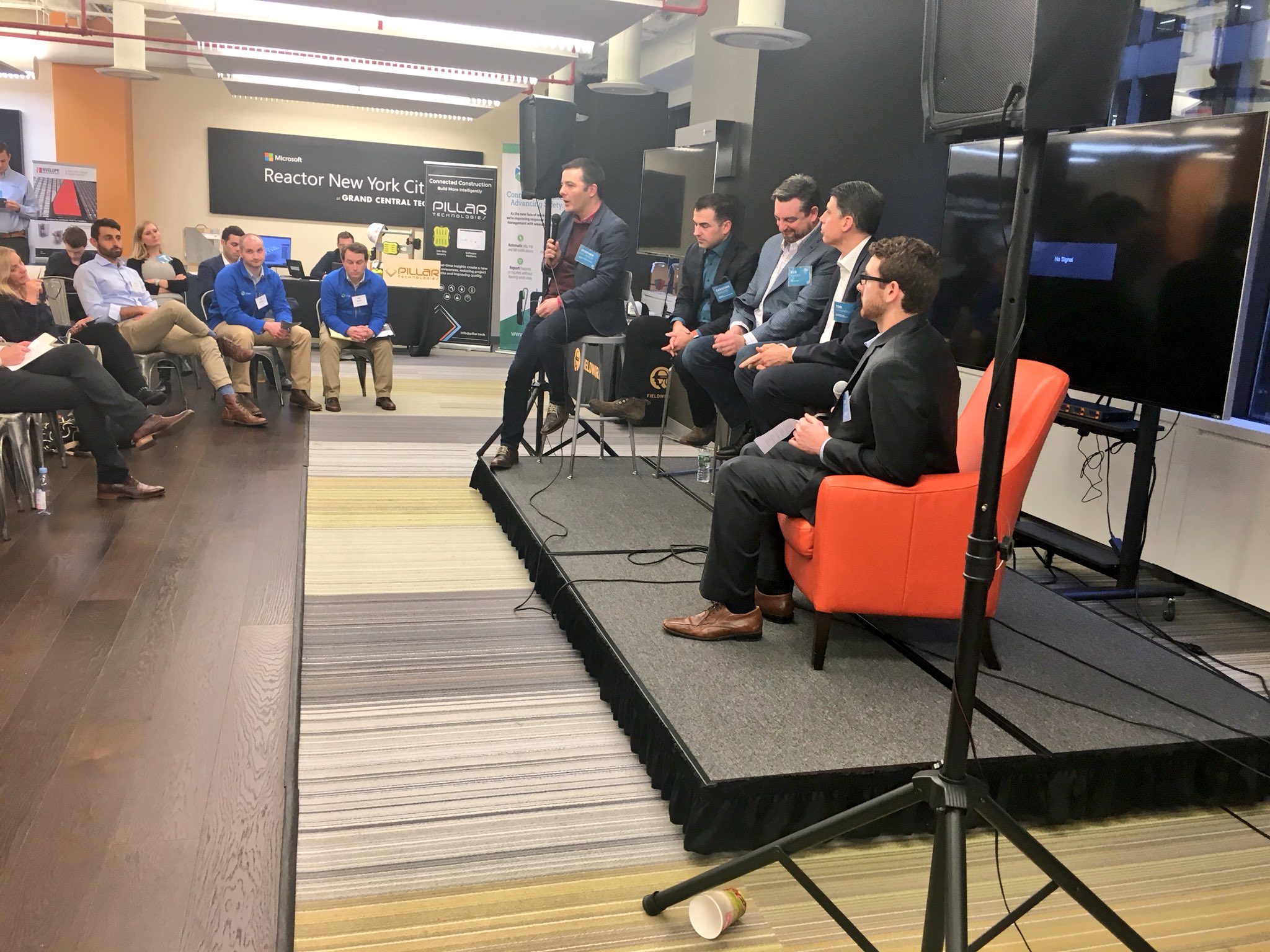 Successful tech adoption is all about company culture. According to Brian Saab, the CEO of Unearth Labs, the adoption of technology in a company "comes down to cultural change… There's no one size fits all."  Alexander Schwarzkopf, the Co-Founder & CEO of Pillar Technologies, suggested that AEC companies appoint a tech lead, noting that the excitement and knowledge of such figures in companies has worked has been massively beneficial.
Many of the tech-forward US contractors attended the BuiltWorlds Projects conference. Niran Shrestha the Co-Founder of OnTarget, proudly asserted, "we have one of our clients here – Hollister Construction… innovation is one of their core focuses." Tom Scarangello, the Chairman and CEO of Thornton Tomasetti said that,  "us all being here and being [tech] evangelists in this industry… I think BuiltWorlds is a big part of that."
2. Government regulations make it even more difficult to adopt new technology
New York City has very strict building regulations. For example, Pierce Reynoldson, the VDC Manager of Metro NY at Skanska, related that, while working on the LaGuardia Airport project, he is not allowed to use the cloud for security reasons.  Everything must be hosted on private servers. "It's a big limitation," he said. "It's one that I respect, but it's tough."
While government regulations frustrate industry players, many AEC professionals are optimistic about the industry's ability to push the government forward. Tim Egan, an Estimator at Skanska, lamented that public works still require paper documentation. He believes "digitizing workflows from day zero is the most important thing we can do to get technology into the public sector."
3. The built industry needs to prioritize communication and collaboration
Many of the speakers at Projects emphasized that issues in the industry can only be solved if technology companies work together. Shrestha of OnTarget explained that "one solution won't solve the entire industry problem. Interoperability between different softwares is key." Hollingsworth of Triax concurred. "I was really happy to hear about how people are integrating their solutions with other platforms," he stated. "No one is going to do this on our own… we see ourselves as one piece of this ecosystem that's emerging."
In order to optimize the use of technology on projects, built industry players not only need to prioritize interoperability, but also must prioritize communication between project stakeholders. Robert Snyder, the CEO of Binsky Snyder, emphasized, "innovation comes down to our guys in the field." Reynoldson of Skanska, agreed. His philosophy is "people, process, technology – in that order always."
Reynoldson's process is to federate everything, so everyone on a project has access to the necessary information. He detailed that the largest issue with the Skanska LaGuardia Airport project is that everyone only sees a small part of the project. Skanska federates CAD, reality capture, and the 4D model so that people can see the bigger picture.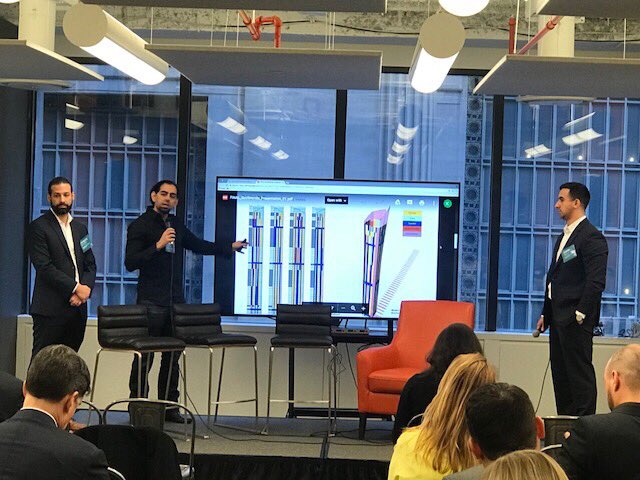 4. Construction companies are adopting personnel tracking devices
One of the most exciting technologies that will start to appear on project sites is personnel tracking devices.  Hollingsworth of Triax Technologies, emphasized, "there's a lot of efficiency to be gained by tracking people and seeing how they're moving around."
Hollingsworth did, however, acknowledge that there are significant barriers to implementing tracking devices. There are "concerns about privacy," he said. Mark Davidson of AECOM suggested that a solution could be to anonymize, "some of the data. You don't have to have it to a level that its tracking a certain person."
5. The built industry is excited about drone data
The utility of drones lies in the data they provide. As Gil Mildworth, the VP Business Development at SiteAware, said, "everyone says drones, but the value is in the data analysis… [and] in the awareness of the site… [drones are] about understanding that what you've actually done is what you intended to do." Dale Beard, the Co-Founder and President of Intelliwave Technologies echoed Mildworth, calling drones a "progressive measurement" that "can get to hard to reach places."
Tim Croke, the First Vice President of Tishman Construction, said that drone data was essential to the Cornell Tech project on Roosevelt Island. "One of the simpler and best tools for us was our drone," he emphasized. "We were able to overlay the CAD drawing on the drone shots," which allowed him to see the reality on the ground. The drone data helped the team plan logistics. With drones, Croke said, "you can get a clearer shot of logistics and traffic patterns, better than a PDF… instant analysis of what's going on. "
In response to the many conversations about drones, Matt Gray, the Co-Founder of BuiltWorlds, encouraged attendees to come to the BuiltWorlds Machines conference. "If you're really interested in understanding the interface between machines and project management, that's your conference," he said.