Historically, in the Buildings and Infrastructure industry, AEC and Real Estate Companies have been focused on their own home regions. However, with rising capital investment, a greater sense of urgency around sustainability, a growing belief in the power of open innovation, and the growth of emerging technology, industry players are increasingly collaborating beyond their borders.  Increasingly, they are investing internationally, setting up offices and forming partnerships far from their home offices to scout new solutions and opportunities, hosting global challenges and accelerator programs. In the process, they are also finding new ways to succeed at home and new business opportunities in countries beyond their traditional home boundaries.
The Global 50 is our list of the industry's change agents, companies driving innovation at home and also in places well beyond their headquarters countries.
About the List: As with many of our lists, we could have identified dozens more companies for this list, and we will look to include those companies in the future. Our criteria was that companies needed to evidence a significant commitment to investing in multiple countries around the world in open and collaborative ways that strengthen connections and community among and between the industry's innovators worldwide. As BuiltWorlds is a leading clearinghouse for global exchange, many of the companies on this list are members of BuiltWorlds. To be transparent about that, we have indicated members by placing an asterisk next to their name. Also, the list is alphabetical. We are not ready to rank the companies at this point.
Beyond majority ownership in Hochtief (also on this list) through it Dragados and other divisions, Grupo ACS has spent millions on research and development in power and other infrastructure.
Sidewalk Labs may have paused on its development efforts in Toronto, but it continues to invest in and influence smart city development around the world. 
Grupo Argos (Columbia | Building Products & Materials)*
Through its partnership with Veronorte, Grupo Argos is investing in early and growth stage companies throughout the western hemisphere. Latin America is witnesses a significant growth in emerging tech in proptech and construction tech.
With Technology Centers in San Francisco, Boston, Toronto, and Birmingham, UK, as well as an innovation center Tel Aviv, Autodesk is increasingly tapping into innovative minds around the world.
Recently selected for Saudi Arabia's NEOM team, Bechtel has invested in more than 100 infrastructure projects around the world, as Peter Nelson tells us in his presentation at our recent Infrastructure Conference. Click on the conference image to here more from Peter Nelson, himself. 
Via its Year in Infrastructure Program, Bentley has been spotlighting innovation in infrastructure, spotlighting more than 4,000 projects since its beginning the awards in 2004.
Bosch (Germany |Building Products & Material)
Robert Bosch Venture Capital invested in Israeli Start-Up Versatile and participated in "Connectories" in London and Chicago  to fuel its global open innovation initiatives.
A giant in Europe and other parts of the world, Bouygues is putting down roots in the American tech and infrastructure world as well. Through its US -established Winnovation group, Bouygues is actively forming partnerships with large US tech companies, emerging tech companies, and American Universities.
Casais Group (Portugal | AEC RE)*
Working across Europe, Africa, the Americas, and the Middle East, Grupo Casais is Portugal's largest construction company. With the a commitment to sustainability, Casais Group has pushed boundaries of offsite construction, building information management, and clean energy. Through international partnerships, the group has help promote the development of mass timber and smart energy solutions.
Caterpillar (USA | Tools & Equipment)*
This video reflects one of our early introductions to open innovation, as we saw how Caterpillar partners with a University and other industry players to learn more about the growth of digital construction.
With $53.8 Billion in 2019 Sales, Caterpillar is the world leader in construction equipment, working internationally on research in partnerships with universities and other groups around the globe. Through its Cat Ventures Group, it is investing in emerging tech companies, and its broader innovation efforts go well beyond the equipment, itself into areas such as analytics, microgrids, drones, and 3d printing. 
Consolidated Contractors Company (Greece | AEC RE)
CCC has pioneered technology in areas such as 3D printed housing, wearables, and off grid, sustainable housing.
Cemex (Mexico | Building Products & Materials)*
Via Cemex Ventures, the organization has made investments in emerging tech around the globe and this year furthered the global conversation, sponsoring a major international competition for emerging technology companies in the sector.   
China Communications Construction Company (China | AEC RE)
A partner in the LaFargeHolcim Accelerator CCCC is reaching emerging technology companies far beyond its home market.  CCCC is a Chinese construction company with 112,000 employees with sales of 61.6 billion euro engaged in design and construction of transportation infrastructure, dredging and heavy machinery manufacturing business.
Each year, COINS hosts a competition, its Grand Challenge, for emerging technology that is particularly noteworthy for its categories aimed at pre-seed and concept stage ideas, in contrast to the many other competitions that focus on companies in commercial stages.
Via its engineering and construction subsidiary, Fujita, the major Japanese trading house has supported modular housing efforts in Malaysia, as well as net zero energy homes,
Doosan (South Korea | Tools & Equipment)
Through it Doosan Infracore Group, Doosan recently establish D20 Capital a Silicon Valley-based venture fund focused on investing in leading technologies in the sector 
Startup challenges, demo days, hackathons, special programs and recognition for entrepreneurs and more are all part of EY's global toolbox for open innovation. They are not just about open innovation, generally. As we have seen in ca
lls and sessions with EY colleagues from America, Europe, and Asia, EY has a major commitment to helping to foster the digitization of the industries that serve the worlds of Buildings and Infrastructure, too.
From its digital hub to it partnership with Cemex Venture on its Construction Startup Competition 20 to its partnership with MIT, Ferrovial is developing a global, open innovation network to advance its vision for the itself and the industry.
For more on industry players, startups, and investors in the European sector, click on our 2019 Report on the European Region.
With R&D Centers in Beijing, Shanghai, Xi'an, Silicon Valley, and Finland and more than 2 billion Yuan (approximately $300 million) invested in R& D over the past few years, China's Construction Software powerhouse is a major player on the global scene.
Through its venture fund, Shibumi, Gulermak is actively investing in emerging technology around the globe.
Hilti (Liechtenstein | Tools & Equipment)*
With its venture group in the Bay area and its BIM Experience Center in Rotterdam, Hilti is fostering innovation on multiple continents.
Hitachi (Japan | Diversified Manufacturing)
With initiatives like its Kyōsō-no-Mori "base for spreading innovation and a $150 million corporate venture fund launched in Munich in June of 2019, Hitachi has made its intentions to be a major player in the field of Built World emerging technology.
Through its recently formed Nexplore company, Hochtief (and its majority owner, ACS) is forming ties with innovation leading universities, startups and others around the world.
Komatsu (Japan | Tools & Equipment)*
With partnerships in American drone company, Kespry and also in venture in the American fund, Draper Kramer Nexus, along with Japanese construction giant, Shimizu (also on the list), Komatsu is branching out with others from it country, as Japan looks to leverage technology to address a critical construction labor shortage.
Innogy Ventures (Germany | Utility)
The venture arm of Germany-based, Innogy, one of Europe's largest utility companies, invests in European and North American tech companies and also, recently invested in  Israeli emerging tech company –  Buildots.
With its $100 million JLL Spark "global venture fund," the leading real estate services business is engaging with emerging technology companies around the world.
With initiatives such as it "Smart Future Vision," a partnership with open innovation company Plug and Play, and the creation of a $100 million Global Innovation Hub in Singapore,  Kajima is leading open innovation, globally within the Built World ecosystem.
Lafarge Holcim (France | Building Products & Materials)*
Via their LH Accelerator, in partnership with Syka and CCCC as well as other open innovation initiatives such as their MAQER program, LaFarge Holcim has taken early leadership in the global open innovation arena.
Lendlease (Australia | AEC RE)
Most recently, the Australian real estate company and builder, inked a deal with Google to develop $15 billion of mixed use residential in the San Francisco area. The firm also unveiled a global digital twin consortium and rolled out a new platform for project predictive analytics.
As we saw in last year's contractor survey adoption results as well as at our recent Project Management/ERP Integration Analyst Call, Microsoft remains deeply embedding in the AEC community's Technology Stacks. While the hololens got peoples' attention, it is Microsoft's commanding position in Business Intelligence that seems to be its real hold on the industry.
Nemetschek (Germany | Technology)
Founded in 1963 by Professor Georg Nemetschek, Nemetschek has grown to be powerhouse in AEC Technology, acquiring leading names like Bluebeam and dRofus.  This year, Professor Nemetschek donated 350,000 shares of his company to his eponymous innovation foundation to promote research in construction excellence and to help make Germany a global center for excellence in the future technology that will shape the industry. At 62.5 Euros per share, this gift to his foundation would be worth nearly $26 million.
A massive organization with operations across the globe, Obayashi has also established ambitious goals for technological advancement. According to their 2020 corporate report, Obayashi is "using its collective strength to pursue technological development that will pave the way for digital transformation." Those aren't empty words. They also have invested nearly two thirds of a previously announced plan to invest 100 billion yen into capital expenditures on R&D over a five year period.
Click Here For More on Obayashi's Open Innovation Initiatives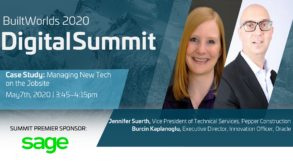 With $1.2 billion spent on acquiring Australian construction software company, aconex, on top of the $633 million purchase of American construction software company, Textura, Oracle is now putting finishing touches on a new innovation center in suburban Chicago that is already developing partnerships with emerging technology companies and other major players from around the world.
Saint Gobain (France | Building Products & Materials)*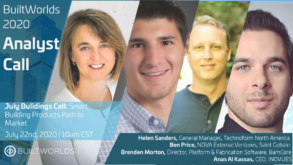 With impressive European research facilities, Saint-Gobain has also established a leading industry focused corporate venture group, Nova by Saint-Gobain. NOVA is comprised of a global team of 12, based in Boston, San Francisco, Paris, and Shanghai. They have joined with CEMEX Ventures on their global challenge, invested in British robotics company Q-Bot, US Companies like Inovues, and also researched startups in China as part of its international effort to advance innovation in the industry.
Schneider (France | Energy & Automation)
Through the establishment of Schneider Electric Ventures in 2018, Schneider has been an active investor in emerging technology in Europe and America, sponsoring a challenge at Greentown Labs in Boston and promoting open innovation for a more sustainable business. 
Siam Cement Group (Thailand | Building Products & Materials)
Siam Cement Group's AddVentures has been busy investing in startups around the world. Investors in Vertex Ventures, Wavemaker Partners, and Plug and Play as well as direct investments in at least ten startups around the world, SCG is becoming an integral part of the fabric of the industry's global innovation efforts.
Shikun & Binui (Israel | AEC RE)
Operating the open innovation laboratory, Infralab, jointly with Italian energy company, Enel, the organization has launched more than a dozen industry-focused start-ups in just two years, making Israel one of the hottest start-up ecosystems in the world right now.
We are not aware of a US construction company that houses ten different research laboratories at its headquarters, covering everything from earthquakes and wind tunnels to biotopes and electromagnetic wave interference. Abroad, Shimizu has invested in Silicon Valley Venture Funds, and recently established a 10 billion Yen allowance to invest in emerging technologies at home and abroad.
Siemens (Germany | Diversified Manufacturing)
Watch this Buildings Conference Session to hear about Siemens and their work in the smart buildings sector.
With labs in Europe and the United States and a major stake in AEC software platform, Bentley Systems, Siemens is heavily invested in the digitalization of all aspects of Buildings, Infrastructure and Cities – Both the products and the processes.
From being the first developer to use the Hololens in Seattle to pioneering drones in London to Automated Construction Leadership in Sweden, Skanska's research and development efforts span a full spectrum of technologies across many countries.
With investments in companies ranging from Uber to Katerra to View Smart Glass to Boston Scientific (yes – the robot dog) and a deal to partner with the Kingdom of Saudi Arabia on the city of NEOM, a centerpiece of the Kingdom's 2030 Vision Plan, Softbank has emerged as one of the biggest investors in Built World innovation in recent years.
Stanley Black & Decker (USA | Tools & Equipment).*
A team of Venture Investors in Stanley Ventures on the East and West Coasts of the United States as well as in Germany, a global additive manufacturing accelerator run in concert with techstars, and a global "Industry 4.0 Manufactury" in Hartford, Connecticut are just some of the ways this tool giant enhancing its position in the Industry.
Having hosted more than 1000 visitors from 18 group countries at its 2019 Innovation Day, STRABAG has pushed advances in autonomous heavy civil equipment, 3D printing, robotics, sustainability, and more. 
With it most recent investment in the US Venture fund Urban Us, the Japanese giant will take stakes in emerging technology in a range of infrastructure, energy, and smart cities related emerging technology companies in the US and elsewhere in addition to continuing to foster its own significant R&D efforts in Asia. 
Tidhar Group (Israel | AEC RE)
The largest private real estate group in Israel, Tidhar Group has also emerged as one of the region's biggest innovation champions investing in globally expanding start ups like Buildots and Versatile. 
Thornton Thomasetti (USA | AEC RE)*
With its CORE Studios and TTWiiN Accelerator, Thornton Thomasetti has invested in and commercialized technologies throughout the world. In this video from our 2017 Summit Thornton Thomasetti's CEO makes an impassioned pitch for open innovation accross the industry.
With acquisitions of technology companies in Europe and also in the United States as well as smart equipment partnerships in Asia and elsewhere around the world, this $12 billion market cap, global technology company continues to deepen its technology reach into both the hardware and the software that powers the built world.
Umdash Group Ventures (Austria | Tools & Equipment)
Through its venture arm, the family that owns Doka forms has invested across the Atlantic in companies like Contour Crafting but is also active in Africa with an initiative toward lower cost precast housing.
With its Leonard Accelerator, Vinci is working with start ups from around the world and also working with Vinci employees from all over the world to foster innovation on projects, globally. At our US Summit, the head of Vinci's US Unit discussed their efforts in areas such as leveraging digital twins, predictive analytics, and noise reduction technology.
Zurich (Switzerland | Insurance)
Zurich is a global leader in insurance and risk management tools for the industry, and one of the ways Zurich has provided evidence of its commitment to innovation, globally, is in its Global Innovation Championship. Many companies today are leading Demo Days and other forms of startup competitions, but the scope of Zurich's efforts is impressive – 1358 entries from 68 regions and territories around the world. As many leading insurance companies are becoming more invested in technologies relating to risk in the built environment, we can expect to see more from Zurich and other major insurance companies in the years to come.