In mid March, when we floated the idea of hosting our BuiltWorlds Summit online instead of "postponing" it, as others were doing, some thought the idea of hosting 17 conference sessions on concurrent Zoom calls over four days kind of crazy.  However, much has changed since then, and with rapid change around us, companies need answers more than ever, and leveraging the power of networks and technology is key to successfully navigating  uncertain times. We are extremely grateful to our sponsors, speakers, and members who have embraced BuiltWorlds online during this time, including our Digital Summit, and we look forward to  bringing the industry an exciting and unique opportunity to come together to share ideas about the future and to help support and demonstrate the strength, resilience and determination of our ecosystem to continue to thrive in the months and years to come.
With that, here is a run down of what to expect:
Day One: Demo Day
A Dozen Start-Ups Across Multiple Built World Themes.
With the support of our Corporate Venture Forum, we will present a dozen early technology players, including promising wearables companies like WakeCap and Guardhat that are offering interesting safety solutions in a variety of settings and places, Modularized home company, Modulous, advanced equipment and robotics solutions provider for the masons, Construction Robotics,  Civdrone – a leader in the field of "service drones," logistics solutions company Soil Connect, labor solutions provider, Solve, equipment management solutions provider, MachineMax , and other fascinating new players in project management such as Hustro, indus.ai, Mechasys, and Ottogee. Taken together, the presenters offer a really interesting survey of the industry's current emerging technology landscape.
Nine Judges from a Range of Corporate Investor Perspectives
Following on our Demo Day at our Venture Conference last November, this Demo Day's crop of judges was selected from among the industry's biggest corporate champions of emerging technology. Representative of the BuiltWorlds ecosystem, in general, we have a number of construction representatives from the United States and around the world, as well as folks like Laura Dwyer from leading building materials company, DuPont Performance Building Solutions, Vivin Hegde from leading tool and fastener company, Hilti, and Tom Scarangello from leading engineering firm, Thornton Tomasetti.
Seeing the demos from such a robust group of entrepreneurs and getting a sense of the verdicts from the judges will make for a stimulating and thought provoking way to kick off the Summit and also support our ecosystem's start ups.
Day Two: The Workshops
On Day Two, we will test Zoom's ability to help us deliver three really interesting and engaging workshops for the community.
Virtual Analyst Briefing
Under the auspices of our E & C Technology Leaders Forum and drawing on the learnings from our E & C Technology Adoption Benchmarking Program, Sam Huffman, Senior Construction Technology Analyst will lead a discussion of the findings of the most recently completely round of surveys.  Through five sets of surveys, each focused on different areas of emerging technology adoption, he will help our industry technologists separate the widely adopted from the leading edge and the bleeding edge so that our members can determine where to focus their own efforts
A Holistic Look at the Industry's Post Covid Strategic Landscape from the Tech and Innovation Perspective and Beyond Hosted By FMI.
Following the Analyst briefing, FMI will provide attendees a first ever panel featuring leading principals representing expertise across the industry. Jay Snyder, Technology and Innovation Practice Leader, Russ Young, Technology Consultant, Jay Bowman, Managing Director – Research, Tyler Pare, Principal and Performance Leader, and Brian Moore, Principal will engage in discussions about the current state of the market, new dynamics, and industry trends that are forming as a result of COVID-19 disruptions. They will also discuss a forecast of how the market and contractors are likely to recover and restart work.
Preparing For the Hard Insurance Market Post Covid 19 Hosted by Hub Insurance Group
The insurance market appears to be hardening, and this will pose added challenges to companies across the industry.
Kirk Chamberlain
,  Executive Vice President, National Construction Leader,
HUB
,  
Cory Davis
, CEO,
Real Time Risk Solutions
, and
Raffi Elchemmas
, National Manager, Health & Safety,
Milwaukee Tool
will lead a discussion of what the hardening market means to contractors, and how emerging technology will influence the market as insurance carriers look at how contractors are collecting data and also how they are leveraging that data to improve quality, safety, and delivery. They will also discuss how the Covid 19 crisis is can accelerate technology adoption.
Day 3 Morning: Infrastructure and Buildings
The Summit began as place for the C-Suite industry leaders to gather to learn about and engage with tech entrepreneurs at a strategic and level.  With that in mind, we kick off both days of our sessions with conversations with industry CEOs. On day one, we focus on the newer, mid-sized company CEOs. With less capital and smaller teams than the bigger companies, they have fewer resources to throw at positioning for the future, but smaller companies are also nimble companies, able to drive enterprise-wide adoption more easily and often with scrappier cultures that more easily embrace change. We'll set the table for the day's discussions by hearing about these challenges and opportunities from the top.
From the CEO's perspective, we move into our "Buildings" and "Infrastructure" conversations where we'll look at how we plan and design our buildings and infrastructure. We examine how those structures are changing to become more resilient, energy efficient, flexible, responsive, sustainable, cost and schedule-effective to build. We also look at how the way we operate and maintain our buildings and infrastructure is changing.
Day 3 Afternoon: Emerging Technology and Project Delivery.
The Evolution of how we manage our projects encompasses many themes at BuiltWorlds. Here we'll look at AI, Machine Learning, IoT, Reality Capture, Laser Scanners, Drones, Autonomy, and more. We start with Preconstruction Planning, estimating, and value engineering and then move to project management and oversight. Then, we jump to the job site, itself. Beyond the software side of preconstruction and project management, we'll here from Tim Moormeier from US Engineering about off-site construction and Chris Hummel from United Rentals about advances in equipment on the site.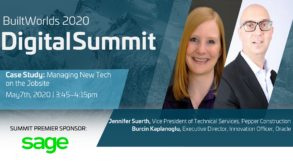 Then, we will meet with Jennifer Suerth, Vice President of Technical Services, Pepper Construction and Burcin Kaplanoglu, Executive Director, Innovation Officer, Oracle.  This session will look at Oracle's Industries Innovation Lab, which brings to life the connected worksite of tomorrow, empowering visitors to experience the potential of wearable and sensor technology, drones, autonomous vehicles, and visualization technology for themselves. Burcin and Jennifer will talk through how the Innovation Lab came about, what it aims to achieve, how it's evolved and lessons learned during its construction. We will then close out the day with Jit Kee Chin, Chief Data and Innovation Officer, Suffolk and Erin Roberts, Global Engineering & Construction Leader, EY discussing Predictive Analytics, where we want to go, where we are, and where we can go from here.
Day 4: Business Strategy: Leadership, Culture, Investment, Technology and the Industry's Next Generation.
A new generation is taking the leadership of companies across the industry, and that generation, not only is more comfortable with the emerging technology being developed for the industry, but also is more insistent on seeing their companies harness these newer techniques and technologies. The companies that win in the coming years will be the ones that position successfully for these new leaders. To understand how companies are meeting the challenge, we have a series of discussions beginning with the CEO's, themselves. We'll hear from Ryan Maibach, CEO of Barton Malow, Richard Wood, CEO of Plaza Construction, and Marc Dutil, CEO of CANAM on how they think about positioning their companies for this next generation today and in the years to come.
From there, we'll explore three key strategic levers for positioning for the future. We hear time and time again that companies struggle with positioning their cultures to be receptive to change in practices and adoption of new technologies. We have assembled an all star panel of industry veterans to lead a discussion around how they work with their companies to create the right conditions for adopting new practices and techniques. The panel will include Tom Emison, Vice President Strategy and Innovation, Kraus Anderson, Dan Gilbane, Director of Strategic Initiatives, Gilbane Building Company, Tonya Dittman, Director of Engagement, Performa Inc., and Weston Tanner, Director, Construction Technology & Innovation, Graycor.
We also have seen that companies that are leaders in identifying and fostering new technologies don't stop at being customers. They get "under the hood" with emerging technology companies, often investing in them early as beta customers, fueling greater insights and also a shot at significant payback on their R&D from return on investments.  We'll hear from Corporate Venture leaders on how they are approaching investments in the built space, what kind of technology they're most excited about, and why it's important for industry players to be a part of the venture world, too. BuiltWorlds Venture Forum Leader, Mike Latiner will lead a discussion with Nick Billotti, Managing Partner, Shibumi, Eric Lamb, Managing Director, WND Ventures, and Ty Findley, Managing Partner, Ironspring.
A third and final ingredient we see in the successful adoption of emerging technology and new techniques is a plan.  Who leads the creation of that plan? How can construction innovation strategists and operations specialists ensure that a new solution fits appropriately into their pre-existing tech ecosystem, and then drive adoption enterprise-wide to confirm a successful implementation? We've gathered top built industry thought leaders to discuss the processes, training, and other strategies they've set in place to accomplish just that.  Chloé Clair, Chief Technical Officer, VINCI Construction, Chris Dill, VP of Technology & Chief Information Officer, Kiewit, and Kim Arrant, Vice President, Business Transformation, APTIM will walk us through the Technology Roadmap.
Even as we experiment with the pushing the boundaries of online meeting, we look forward to bringing the senior leaders of the BuiltWorlds Community together to share their passion for and knowledge about forging a better future for our industry in the days ahead. For more information on the BuiltWorlds Digital Summit, click here . We hope to see you there!