Complete the form within to get an in depth look at the Built Industry Venture activity that took place during Q1 2021.
Go Further with BuiltWorlds Insights
Get involved with BuiltWorlds Insights and you can commission research reports that directly address your company's needs, test out new technologies on your job site, hear from industry experts in the comfort of your office and highlight your thought leadership within the BuiltWorlds community.
Below, we feature 50 earlier stage and more recently founded BuiltWorlds Member companies.  This new generation of industry tech goes beyond the mobile, cloud-based apps that gained prominence a decade ago and reflects an industry that is forging deeper into AI and Machine Learning and also IoT Sensors, Scanners, and Reality Capture technology.
Predictive maintenance detects possible failures before they occur – letting you correct the problem to mitigate any potential downtime or failures during construction. The industry is using the latest in IoT (Internet of Things), fatigue-sensors, machine learning, and predictive analytics to understand how long our tools can last during critical […]
As we discussed last week on Day Two of our Buildings Conference, the ability to bring new innovations can lead to improved building efficiencies, waste reduction, and cost savings when it comes to the construction of modern smart buildings. As recent posts to the BuiltWorlds Job Board make clear, […]
We met Wednesday, April 7th from 9:00 am – 12:15 pm CT and explored Smart Sustainability and how emerging technologies are influencing Building Products, Materials, and Systems. Building off Buildings Conference Day One in which we explored technologies impacting planning and building design, we discussed how these innovations are impacting […]
Moving Construction from Jobsites and Into Factories To Improve Productivity Spanning across different sectors from single-family housing to high-rise office buildings, modularization impacts how we build. More fabrication of modular buildings occurs offsite, resulting in faster builds. This can be small (e.g., the stairs of a building) – to medium […]
As the United States debates the shape of an historic, new infrastructure bill, one question that people may pose is whether this may also be an opportunity to advance new and more efficient ways to approach the infrastructure projects that might stem from the bill. Infrastructure tech is really its […]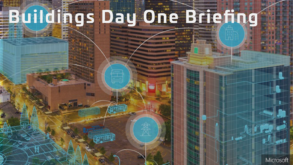 We met Tuesday, April 6 from 9:00 am – 12:15 pm CT and reviewed advances in technologies that impact how we plan buildings, from architecture to engineering and developers to preconstruction. This panel serves as a bridge for digital solutions. Evolving Technologies in Construction Artificial intelligence, augmented reality, and digital […]
Become a Member to Access it All!
Through our Insights, Conferences, and online Members-Only Portal you can explore technologies and best practices that are currently shaping the built world. We're providing the tools so you and your business can be a part of moving the industry forward. Join BuiltWorlds to unlock unlimited resources, conferences, collaborations, and more!
Salla Eckhardt leads this panel, alongside an esteemed group of industry experts, focused on digital twins and the future of BIM.
Bridging the Digital Divide For Trade Contractors and Trade Workers. Much like a dado cut, DADO joins all your data and documents from many sources into one searchable system. A growing digital divide is being caused by the increased adoption of software in construction offices and the field. DADO bridges that divide as the only construction-specific, data-and-documentation search engine for shop drawings, plans, specifications, submittals, spool drawings, and more.
Congrats to Modulous! The Jury's Selected Winner for the Construction Startup Challenge 2020! The Modulous Fastrack solution is a digitally integrated process enabling the rapid design, assembly and delivery of high quality, affordable, sustainable and smart homes.
Congrats to Hiboo! The People's Choice Winner for the Construction Startup Challenge 2020! Hiboo is a SaaS application that helps the construction industry to re-invent the way operations are being managed based on the data collected from all equipment. Hiboo collects and centralizes data from multiple sources on a single platform and turns it into actionable insights.
Dustin DeVan, CEO of Awair and Founder of BuildingConnected, shares his outlook on how technologies such as blockchain, fintech, IoT Data Democratization and ML/AI are going to continue to shape and mold the processes and functions within the built environment in the coming years.
SmartBarrel drastically reduces construction labor fraud with a sign in kiosk equipped with a facial detection camera. Rugged, solar powered and self-contained, with no app or RFID tags required, Smart Barrel provides instant, "tag-buddy proof" time sheets with indisputable audit trails.